August 14, 2014
A Legal Toolkit for Seniors
A new legal toolkit designed to help protect seniors from abuse and fraud was released today by Public Legal Education and Information Service of New Brunswick.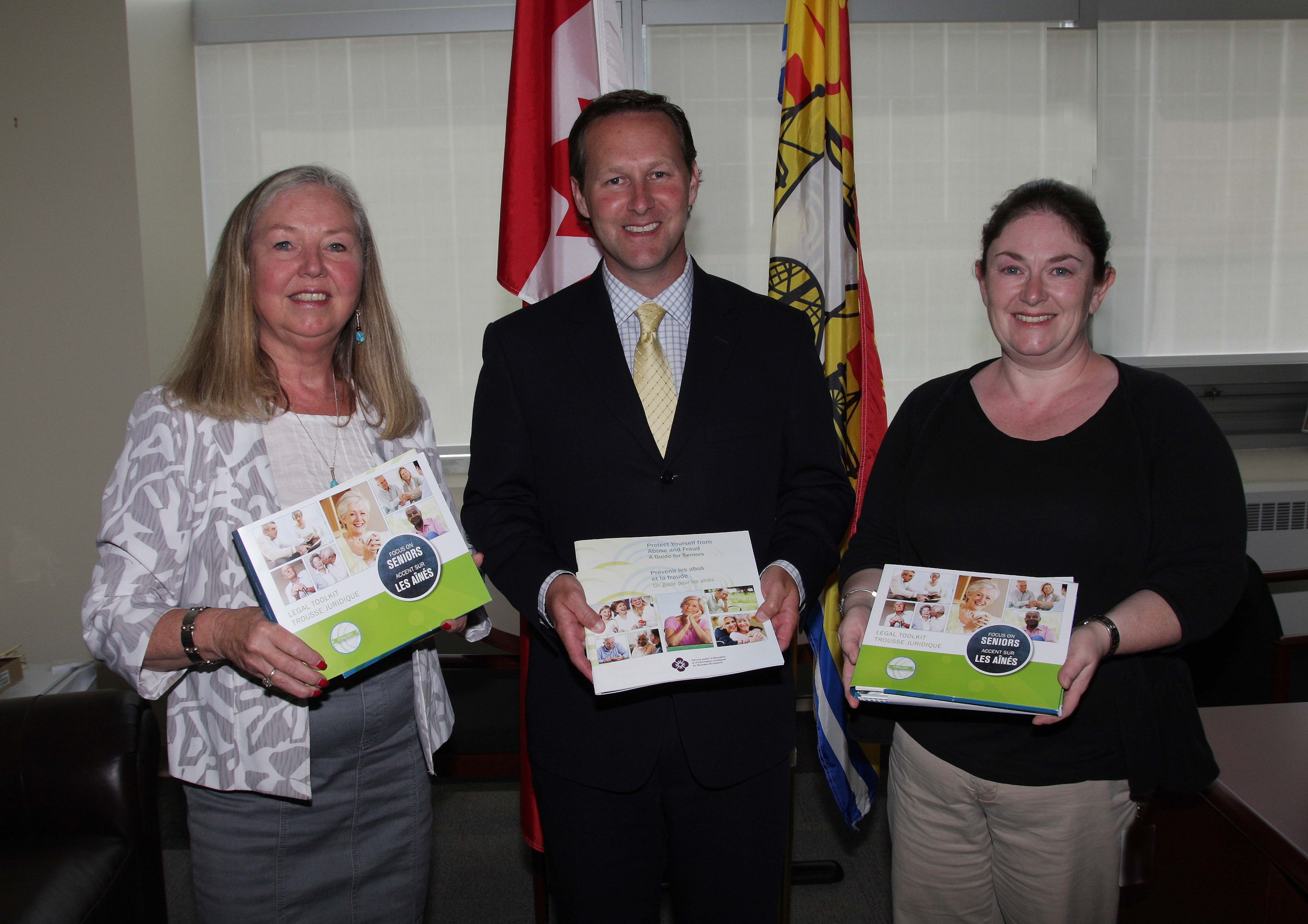 From left to right: Deborah Doherty, Executive Director of PLEIS-NB, Troy Lifford Minister of Justice; Emily Bell, Project Coordinator of PLEIS-NB
"Having a plan to make sure you and your interests are protected is very important for seniors," said Justice Minister Troy Lifford. "Taking the time to review this toolkit can help in planning for the future and making sure you are secure."
The kit provides an overview of various legal tools that can help seniors prevent fraud and plan for the future. Among the various features is a guide called Protect Yourself from Abuse and Fraud: A Guide for Seniors.
"Legal tools such as Powers of Attorney and shared bank accounts are sometimes looked at with suspicion by seniors because there is a possibility they could become a source of financial exploitation," said executive director of Public Legal Education and Information Service of New Brunswick Deborah Doherty. "The guide encourages seniors not to let the fear of abuse stop them from seeing a lawyer and exploring legal options. There are more opportunities for someone to take advantage of a senior who has not planned ahead and chosen a trusted individual or professional to act on their behalf when they are no longer capable."
PLEIS-NB is a non-profit, charitable organization that educates the public about the law. It is funded by the Department of Justice Canada, the New Brunswick Law Foundation and the New Brunswick Office of the Attorney General. Project funding to create this toolkit and guide were provided by the federal New Horizons for Seniors Program. PLEIS-NB is pleased to acknowledge the contribution of members of the Law Society of New Brunswick who reviewed the content. They also wish to thank the Financial and Consumer Services Commission of New Brunswick, the Go Ahead Seniors and the many seniors and community agencies, as well as the Departments of Social Development, Healthy and Inclusive Communities and Public Safety, for their contributions to this initiative.
The toolkit can be viewed online. To request a copy call (506) 453-5369, email pleisnb@web.ca or fax 506-462-5193.
Return