Going to Court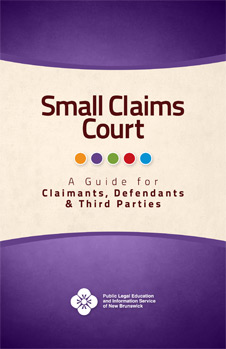 Small Claims Court: A Guide for Claimants, Defendants and Third Parties for actions started after March 31, 2018.
Public Legal Education and Information Service of New Brunswick (PLEIS-NB) is a non-profit charitable organization which provides information about the law to the public. It receives funding and in-kind support from the Department of Justice Canada, the New Brunswick Law Foundation and the New Brunswick Office of the Attorney General.
The information contained in this booklet is based on the new Small Claims Act that came into force on January 1, 2013. The booklet was developed and produced in collaboration with the New Brunswick Department of Justice and Public Safety. The booklet provides general information on small claims actions and does not contain a complete statement of the law in the area. Moreover, laws continue to change. Anyone needing specific legal advice on his or her situation should contact a lawyer.
Revised March 2020
Back to Civil Court